This Top Five Tuesday hosted by Bionic Bookworm is about magic, something I've lowkey avoided all these years. I think it has to do with how I read? I tend to go through text fast, because it's either that or die as an English major.
BUT when I force myself to slow down, I can really appreciate magic!!!!! It just takes more effort, because you have to understand the world-building and magic code and a political strife. WE'RE TALKING SO MUCH COMMITMENT. But once I force myself to relax and slowly process the weird *ss world, I really like magic!
---
---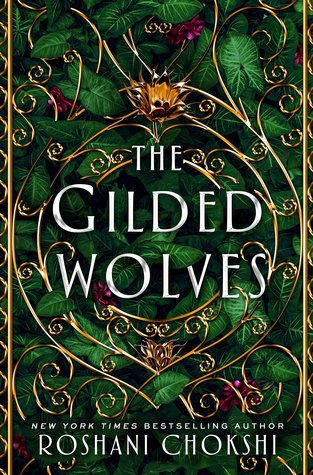 1. The Gilded Wolves by Roshani Chokshi
I am pitching this as Six of Crows but in a new life. So far, it's such a genuinely great book???? We have a sharp team leader (basically a cheerful descendant of Kaz Brekker), dangerous political heists, people with dramatic powers, and a friendship gang.
Two main girls and three main boys. IT ALL FEELS WONDERFULLY FAMILIAR. It's some hardcore déjà vu, but the world-building makes it original.
2. The God Eaters by Jesse Hajicek
I read this book free online and there is simply no excuse for the lack of people in this fandom. NONE. I've lost faith in the world. I mean, SURE the ending sucks. But the rest of it is VERY ROMANTIC AND INTENSE.
3. Blue Lily, Lily Blue by Maggie Stiefvater
This is the best book in the series and I feel like this is where the magic got really involved. Gorgeously written, Blue is tired of this mess, Noah Czerny is the best thing in all of our lives, and the title is my #1 crush.
I get butterflies just thinking about how superior it is to all other titles.
4. Every Heart a Doorway by Seanan MMcGuire
This was so short???? I really love short books,  long books intimidate of me. I'M SUCH A BAD BOOK LOVER AND I FEEL SH*TTY ABOUT IT.
But I think I read this in one sitting and I was so happy. And the writing itself was aesthetic af!! I didn't even worry about the characters because I thought they could surely take care of themselves.
Even if they were being murdered I just quietly thought it fit the mood. My stress level was so low throughout this whole thing???? I think it was the most chill I've ever been in my life.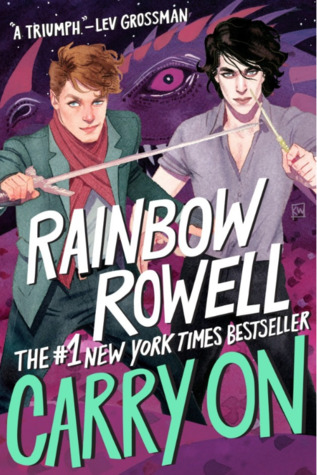 5. Carry On by Rainbow Rowell
There is not universe in which I will not ADORE AND PRAISE AND SMOOCH THIS BOOK. Immediately, just the cover. THE MAJESTIC COVER OF PRETTY BOYS CARRYING WANDS AND THERE'S A DRAGON INVOLVED.
I rest my case.
Do you love any of these? Any magical recs? CAN YOU BELIEVE WE'RE GETTING A "CARRY ON" SEQUEL????? THERE TRULY IS A GOD.
Also, who is your favorite Raven Boy? Mine is beautiful Gansey c: c:
-malanie
| 🌺TWITTER 🌺| 🌺INSTAGRAM🌺 |🌺 GOODREADS 🌺|