Elizabeth Lavenza hasn't had a proper meal in weeks. Her thin arms are covered with bruises from her "caregiver," and she is on the verge of being thrown into the streets . . . until she is brought to the home of Victor Frankenstein, an unsmiling, solitary boy who has everything–except a friend.
Victor is her escape from misery. Elizabeth does everything she can to make herself indispensable–and it works. She is taken in by the Frankenstein family and rewarded with a warm bed, delicious food, and dresses of the finest silk. Soon she and Victor are inseparable.
But her new life comes at a price. As the years pass, Elizabeth's survival depends on managing Victor's dangerous temper and entertaining his every whim, no matter how depraved. Behind her blue eyes and sweet smile lies the calculating heart of a girl determined to stay alive no matter the cost . . . as the world she knows is consumed by darkness.
*Thank you to the publisher and Rockstar Book Tours for a copy in exchange for an honest review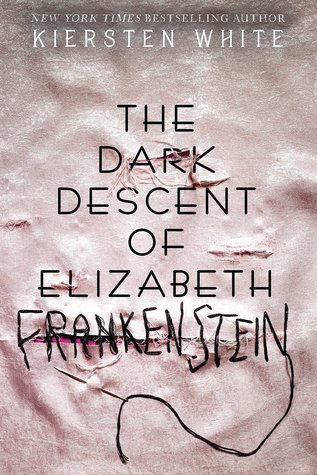 Page Count: 304
Genre: Young Adult, Historical Fiction, Retelling, Sc-Fi
Pub. September 25th 2018
I tried to go into this like a rational human being. I didn't want to set my expectations too high, because I  REALLY love Frankenstein. It's to the point that my standards were not achievable sdfjl. But it's the 200th anniversary of the classic novel, and Kiersten White SHOWED UP for it and did not disappoint me, I was so PROUDDDD?????
She did it friends, she did the Victorian Horror!!!?????? ❤ ❤ ❤
"What I could not survive was losing my Victor. I needed Victor. And that little girl who had done what was necessary to secure his heart wold still do whatever it took to keep it."
This story is about Elizabeth and her relationship with Victor Frankenstein. However, it's not a romance, it's instead a deep platonic ~obsession~ they have with one another. Elizabeth uses Victor's friendship as a way to secure her place in the Frankenstein family.
Without him, they'd kick her *ss to the streets and she'd have nothing. Her life is 100% dedicated to keeping Victor happy and calm; they aren't inseparable because they like each other, but because they can't function in society alone.
I was so glad this didn't turn into a romance, GAWSH MY RELIEF IS PALPABLE. It would have taken away the spirit of the story. This is an "obsession" plot; for Victor, it's about science; Elizabeth has Victor.
In this story, Elizabeth is not a soft, gentle victim. Also, she has an intense, beautiful friendship with Justine, the Frankenstein family governess. I was weak with how sweet and pure their connection was.
And even without Justine, Elizabeth is a dynamic, morally gray character I wanted to follow. If I were in trouble of some kind I would want her to have my back as my best friend. There were several instances in which I blushed with pride because that is the level of respect she achieves. c: c: 
I have to admit, even though I love Elizabeth, I was kind of bummed about Victor and his monster. This narrative makes Victor a villain and the monster an innocent, which takes away from the moral ambiguity which I loved in the classic. I really loved Victor and I had to think of him as a cold antagonist in this book?????
I was DEJECTEd. I don't want to get into the monster's character too deeply, because spoilers, but he was definitely made out to be an innocent babe of the meadow. *SIGH*
I think this is my favorite retelling,,,,,I am so devoted. I highly recommend for a festive autumn read + general everyday "I just wanna read" reading 🙂
Do you love retellings?
Have you read the original Frankenstein?? I really miss Victor. D:
What's your favorite classic novel?
-malanie