---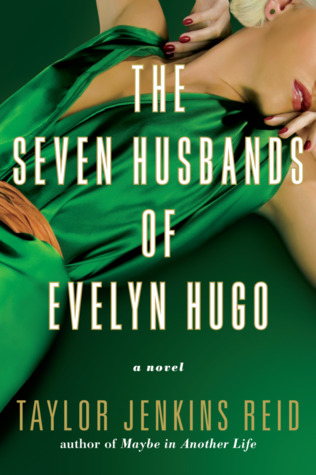 Aging and reclusive Hollywood movie icon Evelyn Hugo is finally ready to tell the truth about her glamorous and scandalous life. But when she chooses unknown magazine reporter Monique Grant for the job, no one is more astounded than Monique herself. Why her? Why now?
Monique is not exactly on top of the world. Her husband has left her, and her professional life is going nowhere. Regardless of why Evelyn has selected her to write her biography, Monique is determined to use this opportunity to jumpstart her career.
Summoned to Evelyn's luxurious apartment, Monique listens in fascination as the actress tells her story. From making her way to Los Angeles in the 1950s to her decision to leave show business in the '80s, and, of course, the seven husbands along the way, Evelyn unspools a tale of ruthless ambition, unexpected friendship, and a great forbidden love. Monique begins to feel a very real connection to the legendary star, but as Evelyn's story near its conclusion, it becomes clear that her life intersects with Monique's own in tragic and irreversible ways.
Written with Reid's signature talent for creating "complex, likable characters" (Real Simple), this is a mesmerizing journey through the splendor of old Hollywood into the harsh realities of the present day as two women struggle with what it means -and what it costs- to face the truth. 
---
"Don't be so tied up trying to do the right thing when the smart thing is so painfully clear."

This book destroyed me SO MUCHHH. At the end, I was in my sister's room sobbing over my kindle because Evelyn is my #1 book girlfriend and I just want to nurture her?? And ensure she's happy???
BUT INSTEAD HER LIFE IS SO HARD.
I am deeply in love with her. I know I always say things like this about my favorite characters, but if Evelyn were real we would for sure be a thriving couple.
I would praise her acting skills and always make her feel cherished & intelligent & we would live our gay life together. Also, unlike **some people** I would understand all the conniving and badass decisions she makes. IN CONCLUSION: I WOULD BE HARRY. BUT ROMANTIC HARRY.
The plot spans from the time Evelyn is fourteen until she's in her seventies. A reporter named Monique, recently divorced and ///mysteriously/// connected to Evelyn in an unknown way, is recording Evelyn's life story, which she plans to write into a biography.
The book is divided into parts that correspond to each of Evelyn's seven husbands, and I thought this was so dammmn genius. Especially because, for Evelyn, marrying and sex are almost always something she uses objectively as she either builds her power/fame OR works to protect her lesbian lover &/or best friend. It created such an intense plot and I physically couldn't put the book down.

"But to love someone. To care for them. To throw your lot in with theirs and think, Whatever happens, it's you and me."

I felt so invested in watching Evelyn go out into Hollywood and just UNVEIL her powerful starburst bad b*tch energy. Her character growth is so strong and my affection for her only grew as the story went on.
My thoughts on Evelyn (my bi true love) 
I feel like many people might conclude that Evelyn's an unlikeable character, but I truly appreciate her, I am getting emotional just THINKING about how much I love her. Everything she does, she does to succeed in a male, heterosexual world. And all the "wrong" deeds she has committed, she doesn't regret at all. Honestly, I would fully 100% die for her. I would leap in front of any moving, dangerous thing.
*breathes*

"But Celia was the sort of beautiful that felt as if you could hold it in your hands, like if you played your cards rights, you might just get to marry a girl like Celia St. James."

Even though I want Evelyn for myself, I also love her love story with Celia. Celia is who Evelyn considers the love of her life, and they meet in their twenties, and their relationship goes on (and off) for the rest of their lives. The way Evelyn describes kissing her!!!????? The way Evelyn sees her girl on TV, and thus kisses the TV, and CHIPS HER TOOTH. My thoughts: "oh f'ing fUDGE. MY HEART IS BURSTING." So iconic and gorgeous
While getting rich/climbing the Hollywood ranks often gets in the way of their relationship, once even breaking them apart for an entire decade, they always find their way back to one another. And there's this scene, where Harry is trying to make Evelyn breakfast.
And Celia has just come home from shooting a movie and RUSHES to the kitchen to make Evelyn breakfast instead. Because "UM NOPE *swats Harry's hand* EVELYN IS MINE."
I really appreciate when characters have a *healthy* level of possessiveness for one another 🙂
But even though I adore Evelyn + Celia, my favorite relationship in this book was Evelyn and Harry. They are one another's best friend and their love is so unconditional and pure. She refers to Harry as her soulmate. They repeatedly reaffirm,,,"it's you and me." 
++++Evelyn does some crazy sh*t to protect her best friend, which was another element I really enjoyyyedddd.

Overall 
This is one of my favorite books of the year. Evelyn is my new religion.
Rating:
TW: death of a loved one, death of a child, talk of suicide, unhealthy dieting, underage sex with an adult, abortion, physical abuse, cheating, drunk driving, and homophobic slurs. 
buy with::::::
If you liked Seven Husbands I would recommend The Gravity Between Us. New adult romance featuring f/f in Hollywood!!!
---
Do you love historical romance?
Who is your favorite actress?
do you prefer reading best friends or romances?
-malanie
|💜 TWITTER 💜|💜 BOOKSTAGRAM💜 | 💜 Goodreads💜|