---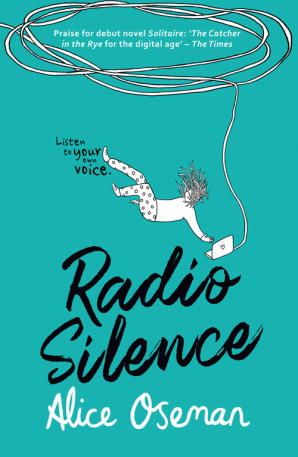 What if everything you set yourself up to be was wrong?
Frances is been a study machine with one goal. Nothing will stand in her way; not friends, not a guilty secret – not even the person she is on the inside. Then Frances meets Aled, and for the first time she's unafraid to be herself.
So when the fragile trust between them is broken, Frances is caught between who she was and who she longs to be. Now Frances knows that she has to confront her past. To confess why Carys disappeared…
Frances is going to need every bit of courage she has.
Engaging with themes of identity, diversity and the freedom to choose, Radio Silence is a tor de force by the most exciting writer of her generation.
"And I'm platonically in love with you."
I feel v guilty about how long it's taken me to talk about this book, because I finished it in two days & let me say I was put through the emotional turmoil of my life. I both adored and hated these characters! (excluding Frances, she is the one person I loved entirely & without any disappointment.)
So my review is basically going to be a rant about how beautiful platonic love truly is, how much I relate to Frances, and what a complex jerk Aled turned out to be.
IN OTHER WORDS IT IS A PARTY AND YOU'RE INVITED c:
High school student Frances fulfills the "studying forever" niche and school is her entire life (high school me, those wholesome days before school killed my soul); but she doesn't actually *like* academics. When she's with friends she feels alienated, as if she's tolerating the people she's supposed to enjoy. She using them so she doesn't sit alone at lunch, let's call it what it is.
But as far as close, dear relationships???? *loses control* DOE, A DEER, A FEMALE DEER all she has is her mohm (which is not a bad thing because her her mom is extremely cool! Another example of books ft. awesome parents, which i want to make an entire post about, because not all book characters are adult-fearing orphans?).
Her one major passion in life is a YouTube podcast called Universe City & she draws fan art and listens to every show. She's launched to my level of fangirling! SHE'S REACHED THIS PEAK? except I have no talent whatsoever, i'm actually failing my college drawing course pls comfort me
Then she meets Aled, the boy who lives across the street. They relate to one another hard and become friends! Some would even sayyyyy………*best* friends, but woagh let's not get ahead of ourselves.  They never outright call one another best friend????? which disappointed me almost to the point of outrage.
BUT they redeemed everything when Aled announces "I'm platonically in love with you" & "I feel like you are me" or Frances says "you're the closest friend I've ever had."
But my absolute favorite part of this plot = it's not a romance whatsoever. Instead, it's the story of two people developing a deep platonic bond,,,,,,,,even if Aled continuously screws up said bond. BUT IT'S OKAY. Because I got my platonic love rep and I wish that more books gave me this, i've been STARVED for books like this.
(Sales Pitch: why can't google include a "best friend" category whenever you google someone. For instance, whenever you google a celebrity, we get their age, height, spouse, parents, sibling…..but where ON EARTH is the category for their best friend??? This is important information that we're lacking, due to google's outright disregard of friendship. These are the real issues we need to bravely face.)
(this is not a spoiler) When Aled turns out to be the creator of Universe City, it means Frances + Aled's friendship is threatened because Aled is mean person sometimes. 
What follows is a soft story about teens learning their place in the world & how to build genuine relationships. ❤
Frances 
MY GIRL Frances is awkward & a people-pleaser & doesn't know how to be herself in social situations. I have never felt more connected to a character in my life. The resemblance between us was uncanny.
Frances is also v quick to blame herself for things that are actually not her fault at all. She's loyal, secretly a giant geek, and invests her energy into building a platonic bond w a boy!!!!! Frances outright says that she doesn't get involved romantically w Aled, but their relationship is just as intense as any romance.
Also, Frances is a biracial & bisexual. This filled my heart w joy, bc I haven't read this representation in a female character. my small heart?????? it was cause for celebration & triumph.
Aled 
I'm not here to drag Aled through the cold wintry snow, thus making his face uncomfortably cold & unattractive and exacting my revenge for how he treats Frances. That's absolutely not what's happening. In fact, I'm going to start with positive things about him!
✨ He's gay! One of the best things a person can be.
✨ He's demisexual! THIS REP IS SO RARE??????? I search high and low for my demi rep, and Aled launches into an entire explanation of what it means???????? My cheeks hurt from how much I smiled during this scene.
✨He's got a beautiful mind! He writes & produces a popular lowkey podcast. & just when I thought I was impressed, he whips out a guitar! and performs the ending song. + even though he's a prince of talent, he's humble and very sweet.
But even though Aled kind of special, he's a crap friend to Frances & a crap boyfriend to Daniel. There's a scene toward the end in which he insults and demeans Frances for things she hasn't done??? and he never apologizes for the shitty things he says to her.
Frances, however, is constantly apologizing and asking for forgiveness, even though she's an innocent angel. 
Then, his poor Korean boyfriend, Daniel, is given the seemingly indifferent shoulder 24/7???????? I understand that Aled is awkward af. But the way he treats his loved ones made me want to….spring forward and push him into the pool of disappointment. Aled cannot blame being an introvert/being scared/having a tragic childhood when he's actively being mean & disrespectful & an asshole.
Frances and Daniel let him get away with a lot of drama & I would've been over it a LONG time ago. I'm just trying to hold onto my platonic rep and it's become very hard because of Aled but i just have to keep trying when life gets rough, and say that i'm fine.
Even though Aled was annoying sometimes, and broke my heart, I mostly loved his relationship with Frances. I wish they would've explicitly acknowledged that they were one another's best friend!!!!!! But they are still a cute platonic couple.
I can't wait to read more Alice Oseman, I hope the friendships stay strong????????
Final Verdict:
TW: emotional & physical abuse (parent/child), death of a dog
Do you love Alice Oseman?
What is your favorite book ft. soft, awkward characters?
Do you have a character that you both hate and love?
-malanie
|💖 TWITTER 💖|💖 GOODREADS 💖|💖 INSTAGRAM💖 |